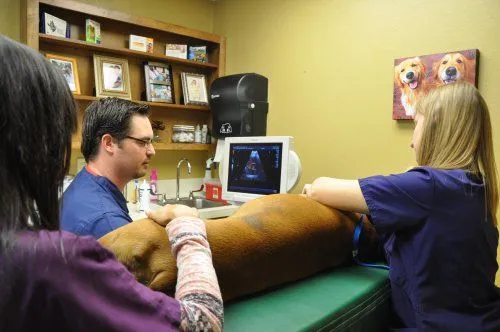 Twin City Veterinary Clinic provides a full range of veterinary services, striving to perform them all with the confidence, competence, and compassion our clients and patients have come to expect. Our services include:
Appointments
Our appointment book is computerized which allows us to efficiently make appointments for you and your pet. Our receptionists and team will attempt to accommodate all requests to the best of our ability. Emergencies are accepted anytime our clinic is open. If you feel you have an emergency with your pet, please call us or come to the hospital immediately. If possible it is best to call before coming in so that a staff member can advise you on your particular emergency. Appointments are always recommended to reserve and preserve your time with the veterinarian.
Emergency & Urgent Care
We have a veterinarian and personnel on duty 5 days a week who are trained and equipped to handle any urgent care your pet has. Usually an emergency team consists of at least one veterinarian and several technicians working together to save a pet's life. Emergencies can be things such a snake bite poisoning, hit by car, and chocolate ingestion. If you ever feel that your pet needs emergency treatment do not hesitate to call or come in immediately. If possible it is best to call before coming in so that a team member can advise you on your particular emergency.
We are also available for urgent care when the condition is not life-threatening, but you feel your pet needs to be seen before you are able to get an appointment. Our dedicated staff will try to work you in as an appointment between scheduled appointments. .

Types of Services Provided
Full Hospitalization Facilities
Laser Surgery
Chemotherapy
Preventive Health Care
Complete Veterinary Pharmacy
Nutritional Counseling
Behavior Counseling
Veterinary Internal Medicine
In house laboratory for: serum chemistries, cytology, serology, fungal cultures, blood counts, endoscopy, gastroscopy, colonoscopy, bronchoscopy, electrocardiogram, ultrasound, echo cardiology, blood pressure monitoring, and TCVC utilitizes an outside veterinary laboratory for pathology, bacterial cultures, toxicology and much more! TCVC also has an intensive care unit in-clinic for incubation, oxygen and nebulization therapy.
Veterinary Surgery and Anesthesia
All surgeries are monitored by a technician from the point of presedation to post-op extubation. TCVC also utilizes instruments such as electrocardiographic and pulse oximeter monitoring, and all procedures are performed in our sterile surgery suite. Dr. Blotner and Dr. Scales perform laser surgery on most procedures which allows for less bleeding, less swelling and less pain for your pet.
Soft Tissue
Orthopedic
Neurologic
Electrosurgery
Cryosurgery
Cosmetic
Veterinary Diagnostic Imaging
Digital Radiology
Ultrasonography and Echocardiography with Doppler
OFA Registration
Veterinary Dentistry
Dental Prophylaxis
Digital Dental Radiology
Periodontal Disease Therapy
Oral Surgery
Payments
Twin City Veterinary Clinic accepts payment via cash, check, MasterCard, Visa, Discover or American Express as well as Care Credit. So that we can continue to provide you high quality service utilizing the best medical technologies, we request that payment be made at the time services are rendered.
We provide treatment plans for all surgeries and hospitalizations. If you have not received an estimate, you are welcome to request one at any time for your expected charges.

Discounts
Twin City Veterinary Clinic offers discounted services to military clients, active duty police canines, and also a multi-pet discount (3 or more).