TCVC in the Community
Twin City Vet held its 2nd Annual Support A Shelter Program this holiday season, where items were collected by TCVC from the community and our amazing clients, and then donated to a rescue in need! Items collected included blankets, kennels, food, treats, collars, leashes, toys, beds, monetary donations and much more! Each year a different organization is chosen to be the recipient of all donations collected from our Support A Shelter program, and this year the beneficiary is Pups in Peril, based in Orange, Texas! We are thankful for our clients and community who support this program, and look forward to supporting another organization next year!
TCVC staff with Connie from Pups In Peril accepting donations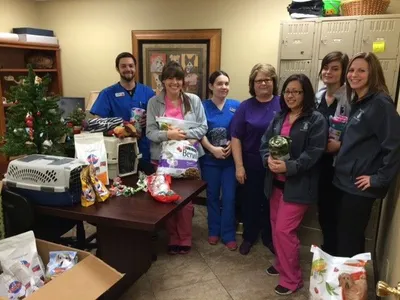 ---
TCVC Staff preparing donations for Pups In Peril
Your friends at Twin City Vet support Breast Cancer Awareness! The staff and friends participated in the Julie Richardson Proctor 5K Color Run/Walk event held in Beaumont, Texas during breast cancer awareness month in October. TCVC staff raised over $500 to benefit the Julie Rogers' Gift of Life Program, which has breast and ovarian cancer awareness programs in Southeast Texas.
Team "Pink Paws for a Cure" was sponsored by Twin City Veterinary Clinic and had amazing support from its awesome clients! The team walked the 5k while being saturated in colors and enjoyed being a part of such a great cause. Check back later for other features on Twin City Vet in the community!
TCVC Staff Wearing Their "Pink Paws" Team Shirts at the Clinic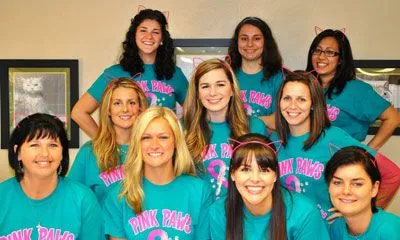 Our staff with Dixie, a cancer survivor herself who received chemotherapy here at Twin City Veterinary Clinic
Our team after being covered in color during the 5K walk for the Gift of Life